Looking for Staycation Inspiration…?
Posted by
LStevenson
on
June 28, 2018
Trips to the seaside will carry warm childhood memories for many of us, but we all started talking about "staycations" following the economic downturn a decade ago – and they've continued to grow in popularity since. And why not? From stunning scenery and glorious beaches to world-class tourist attractions, the UK has so much to offer staycationers beyond just avoiding airports and making your holiday pound go further…

But with so much on our doorstep, it can be tough to know where to start. So in true esure style, we've made things simpler for you and brought together some inspirational ideas, useful links and valuable tips to help you make the most out of a staycation.
Stay in a castle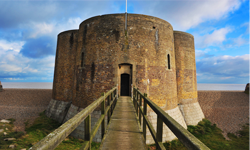 They say "an Englishman's home is his castle." Well it may well be cheaper than you think to treat yourself like royalty and stay in a genuine, centuries-old castle bursting with history.
Imagine sitting on the battlements and surveying your kingdom below with a cool drink in your hand - or watching a Game of Thrones marathon inside a fortified tower…
The Landmark Trust and National Trust websites have lots of castles, forts and towers to stay in, all with modern furnishings and facilities - so don't worry, you won't be sleeping on straw mattresses. Many sites sleep between 6-8 people, meaning a short break can work out as little as £20 per night, per person!
Here are a few we've picked out to get you started...

Saddell Castle, Kintyre – a romantic, early 16th-century Scottish tower which sits on the coast of Kintyre, with breathtaking views of the Isle of Arran from every window of its four floors and wall-walk battlements.

Martello Tower, Suffolk (pictured) – originally designed to keep out Napoleon, this military tower sits on the beach between the sea and the River Alde - so it's the perfect place to eat your (freshly caught) fish-n-chips and watch boat races at the nearby club from the stone-flagged battery.

Doyden Castle, Cornwall – this one-bedroom, cliff-top castle was built as a party venue, but has since been converted into a fairytale holiday home. Situated on a secluded headland in Port Quin, not far from renowned surfing beach Polzeath and seafood enthusiasts' favourite, Padstow.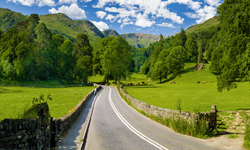 Hit the road
Get behind the wheel and remind yourself of the simple pleasures of driving without a deadline - or even without a destination!
Click here to see our 5 Great UK Summer Drives
Go glamping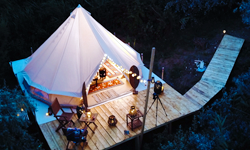 It can be great to switch off from technology and reconnect with the great outdoors. But that doesn't have to mean struggling with tent-poles in a muddy field… "Glamping" has been steadily on the rise over the last decade and covers far more than just luxury tents – with geodomes, log cabins, luxury lodges and treehouses available in some incredible sites around the country.
Sound like fun? Read on...

Feather Down is a good place to start, with locations all over the UK and options from log cabins with private showers and outdoor hot tubs, to simple canvas tents (all with hardwood floors and a wood-burning stove, of course).

The National Trust also have a section on their website dedicated to glamping, with safari tents, luxury yurts and all-weather wooden camping pods in beautiful countryside locations.

Or how about sleeping next to tigers or in a luxury treehouse? Port Lympne safari reserve in Kent offers luxury lodges for up to four people, which look directly out onto the rhino, wolf and tiger reserves – so you can wake up within a whisker of these magnificent animals.

Top Tip
Think about leaving your valuables at home when staying in a tent or yurt – often many travel and home insurance policies don't cover you while camping. If you do need cover, check out specialist insurers.
Day trips
Home is where the heart is, but it's easy to get complacent. While we may want a change from the usual surroundings, a break from routine can be just as refreshing. And with all the comforts of your own home (literally) right at your doorstep, there's a lot to be said for planning a day trip.
Look again at your local area with the eyes of a tourist (where would you take guests if you wanted to show off where you live?), and make sure you commit to treating it properly as a break. That means:
Turn off phones and laptops (unless using them to plan your day)
No To-Do lists, no DIY, no laundry
Eat out or takeaway, so you're not spending time planning meals
Break up your routine and do things you wouldn't normally do
DO YOU NEED TRAVEL INSURANCE FOR A STAYCATION?
It's easy to forget about insurance when you're getting excited about your holiday - and even if you're staying in the UK it's worth thinking about whether you're covered should the worst happen.
Things to check before you go

Check if your provider will cover you for UK stays. esure covers UK trips that are at least two nights away, more than 25 miles from your home, with pre-booked transport or accommodation.
Check your Home Insurance policy – if you have Personal Possessions cover, this might cover you for items away from the home that get lost or stolen. It's unlikely you'd be covered in a tent, though.
Check if your travel insurance covers camping trips as tents and canvas accommodation may be excluded.
As with any insurance, take the time to read the policy details before you make any decisions, or give your provider a quick call – they should be happy to answer any queries.
If you're taking a trailer or caravanning, check that you're covered for towing (with esure Car Insurance you are), and your trailer or caravan is included in the recovery from your breakdown provider – so you don't end up having to leave your second home on the hard shoulder!