Domestic helpers hit boom time with brits forking out £26 billion a year
Posted by
MFawcett
on
September 20, 2016
One in three (34%) households now employ someone to help with domestic chores
Of these, nearly five million Brits now have a cleaner – an increase of 24% compared with 2011
Almost twice as many under 35's have a cleaner compared to those aged over 35
Domestic help no longer the preserve of the rich, with one in four households with an income under £20,000 now hiring some form of help
One in three (34%) households now hire some form of domestic help with an average spend of £127 per monthi.
The research, from esure home insurance, reveals having a cleaner or gardener is now a normal part of family life, with 17 millionii Brits now employing someone to help them with domestic chores. In fact, one in four (27%) households on modest incomes (earning between £10,000 and £20,000 per year) now hire regular help, with the average spend as much as 10 per cent of their annual income.
Among those who currently hire help, one in four (25%) hire window cleaners, nearly a fifth (17%) employ gardeners, one in 10 pay cleaners (9%) and close to one in 20 (4%) hire handymen for simple jobs about their home. And it seems to be a sign of the times that more men now hire handymen than women (6% versus 4%) for simple DIY.
The number of people in the UK that employ a cleaner has surged by a quarter (24%) since 2011iii, with more than 4.7 millioniv Brits (9%) now hiring one and it is those under the age of 34 that are driving the trend. Almost twicev as many Generation Y-ers have a cleaner compared to those aged 35 and over – the highest proportion of any age group. These members of 'Generation Y-Should-I-Clean' say they (25%) would rather do other things with their free time than dust and vacuum, and one in four (22%) find the work too boring to do themselves.
Across the nation, working long hours (18%) and a busy social life (23%) is the main motivation for hiring a cleaner. While one in three (33%) simply say it's just easier to hire a professional to do chores properly.
Generation Y are forking out the most for their hired help, with the under 35s spending an average of £204 last month, compared to the average of £127 and men pay 42 per cent more than women (£145 versus £103) on domestic help. Despite the significant sums of money handed over, the majority (87%) of pay is given out by Brits 'cash in hand' with £1,300 being handed out per household in an average year.
Despite these workers usually being left unsupervised while they work, less than four in 10 (38 per cent) Brits hiring help say that they always check the references of their domestic employees and only one in five (21%) has a written contract in place. esure home insurance recommends that those looking to employ someone to work in their home always check references and ensure they have insurance.
Nikki Sellers, head of home insurance at esure said: "We are leading busier lives than ever so employing someone to help out in and around the home is no longer something for the wealthy few. However when hiring someone to work in your home, whether you are going to be there or not, it is really important to ensure you have checked out their references and if something is broken or damaged check that you have insurance in place."
ENDS
For more information
Suzie Barrett or Matt McKenna at Third City on 0203 657 9773 or [email protected]
Emma Banks, [email protected], 01737 235107 / 07894 158605
Notes to editors:
Research was conducted by Opinium among 2,018 nationally representative UK adults (18+) in England, Wales, Scotland and Northern Ireland. Research was carried out from the 1 March to 4 March 2016.
esure is an efficient personal lines insurance business. Founded in 2000 by Chairman, Peter Wood, Britain's foremost insurance entrepreneur, the company is a leading provider of car and home insurance.
Regional data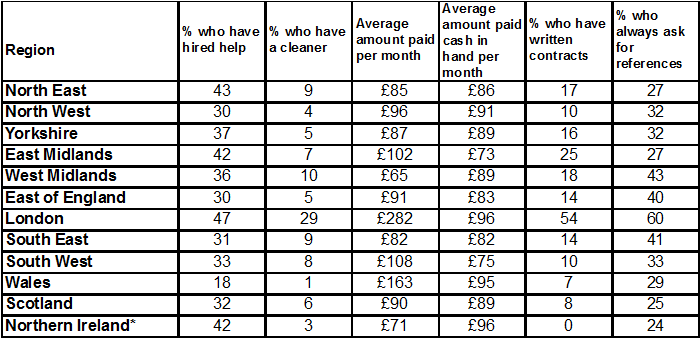 i17,482,625 Brits hire help in the home (34%) and they pay an average £127 a month or £1,524 a year. 17,482,625 x £1,524 = £26,643,520,500
ii 693 out of 2018 respondents employ domestic staff. 693 / 2018 * 50,909,000 = 17,482,625 or 17 million.
iii 188 respondents of all ages said they have a cleaner, while 152 said they had a cleaner in 2011. 188 / 152 = 1.24 or an increase of 24%. 8% of respondents employed a cleaner in 2011, 9% of respondents employ a cleaner now – an increase of 24%
iv According to the research 188 out of 2018 respondents (9%) employ a cleaner, 188 / 2018 * 50,909,000 (UK adult population) is 4,742,761 or 4.7 million.
v 16% of respondents aged 20-34 years said they have a cleaner at present, compared to 9% on average.