What to do if there's a danger of flooding
Posted by
emma.sewell
on
January 19, 2021
If you're worried about being flooded, start preparing.
Tip #1: Help stop water getting into your home
Staying one step ahead of a flood is always wise. And stopping water getting into your home in the first place should be a priority – putting sandbags (or if you cannot get hold of these, making your own using rubble sacks filled with garden soil) in front of doors could help.
Tip #2: Check for flood-warning updates
Keep yourself up to date by looking at weather websites (such as the Met Office), by listening to local radio, or by signing up for flood warnings (by phone, email or text message).
Tip #3: Know how to turn off your utility supplies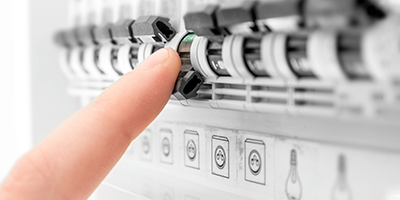 As you may need to turn off your gas, electricity and water if you're flooded, make sure everyone who lives with you knows how to do this.
Tip #4: Double-check your insurance
Have a quick look at your documents to make sure you've specified any expensive items. For esure customers, that's anything worth £1,500 and over (or bicycles and accessories worth £500 and over).
Tip #5: Remember to unplug appliances
Whenever you've finished using everyday electrical appliances (such as kettles, hairdryers), get into the habit of unplugging them.
Tip #6: Move things upstairs if you can
Please be very careful if you carry anything up to the next floor – e.g. electrical items, furniture, books and other valuable things. If they're too big or heavy to shift upstairs, try to raise them off the floor using bricks or wooden blocks.
Tip #7: Don't forget about sentimental things
Valuable items that would be impossible to replace – like family photos and old letters – should be put in a waterproof bag and stored upstairs.
Tip #8: Keep important documents and paperwork together
Those things that will be hard or inconvenient to replace if they get water-damaged or lost. So gather up passports, birth certificates and insurance documents (the latter's also online in My Account if you're with esure) and put them with your other valuables.
Tip #9: Take photos of things you're worried might get damaged
If you ever need to make a claim for flood damage, it's good to have photographic evidence. So, while you remember, take photos of anything you think might get damaged if water does get in.
Tip #10: Prepare a Flood Kit
This should include warm and waterproof clothing, blankets, wellies, a torch (and spare batteries), drinking water, a first aid kit, rubber gloves, essential medication and a mobile phone. And if you happen to have one, a portable charger or power bank would be handy in case your mobile runs out of charge.
Tip #11: Get clean drinking water ready
So you have one less thing to do if you're suddenly flooded, fill up plenty of large bottles, jugs, pans and containers to store clean drinking water in.
Tip #12: Move your car to higher ground
If you've got time and it's safe to drive, move your car to higher ground away from areas that will potentially flood.
Tip #13: Check neighbours know what's going on
See if your neighbours know there's been a flood warning and ask them if you can do anything to help them prepare. Why not tell them what you're doing, for example?
If your home is flooding, stay safe
Tip #1: Make sure you're safe and keep calm
If you feel unsafe, find safe shelter by moving to an upper floor in your home or higher ground. Please do not walk, swim or drive through flood water as it's very unpredictable. Flood water can be deceptively deep (water levels can rise quickly) and fast-moving. Plus, you never know what's below the surface. If you or others in your home are in danger, call the emergency services.
Tip #2: Turn off your gas, electricity and water supplies
If you didn't do this before the flooding started (and water's now coming into your home), shut off supplies at the mains if it's safe to do so.
Tip #3: Don't risk electric shocks
Whatever you do, don't touch any sources of electricity (even if the electricity's been turned off) while you're standing in water.
Tip #4: Go online or listen to local radio
Keep abreast of the latest weather news if you can – you could search local websites (or look at the ones we mentioned above) or tune in to local radio.
Tip #5: Try not to touch flood water
Flood water can be contaminated with all kinds of things so try not to get it on your hands. If you do (and you're able to), wash them thoroughly. And if you need to handle things wear rubber gloves.
Making a claim if you're insured with us If the unexpected happens and you need to make a claim, you can report this online in My Account or call 0345 601 7072.