Proof of No Claim Discount
What can I use as proof?
We'll accept either of the following documents from your previous insurer:
the page of your renewal invitation that shows your No Claim Discount years
a letter confirming your No Claim Discount years

It must be dated within two years of your new policy's start date and should be sent to us within 28 days of your policy's start date.
How do I send my proof?
You can send a PDF document or a photo of the document to us by email.
You can also post your proof to us using the freepost address below: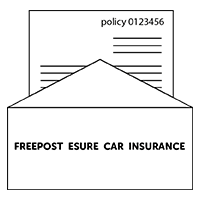 You just need to write "FREEPOST ESURE CAR INSURANCE" on the envelope exactly as shown above. It really is that simple! This address is freepost so it doesn't need a stamp.
Please make sure you include your new policy number when you send your documents so we can identify you quickly.
Request your proof of No Claim Discount
You can use page 3 of your renewal invitation as proof of your No Claim Discount.
If you don't have this document, you can use our online form to request a 'Proof of No Claim Discount' email.