On
Car insurance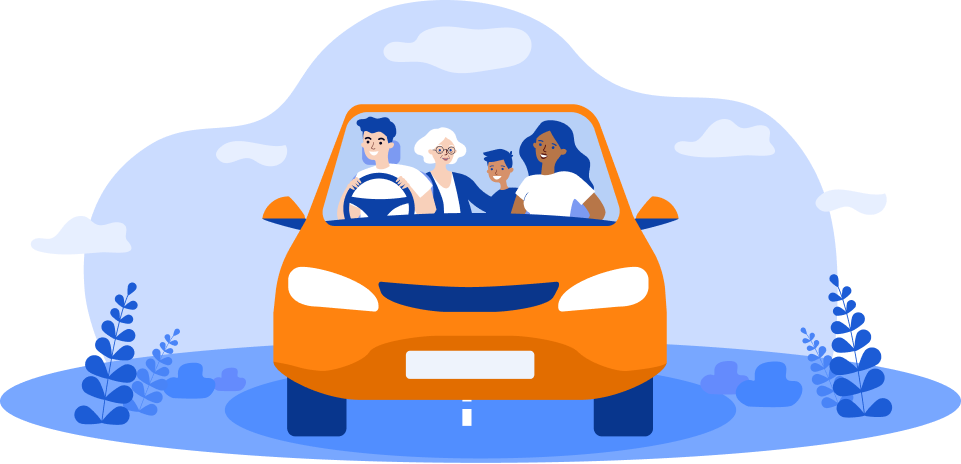 Defaqto 5 Star rated* comprehensive cover
✓ 24/7 accident helpline
✓ Windscreen cover
✓ Courtesy car

Offered with comprehensive cover only.
For full details of cover and exclusions, please read our policy booklets.
*Excludes esure Flex
Existing customer?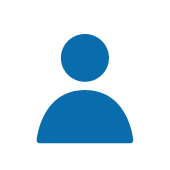 When we issue your renewal quote, it will always be the same or less than the equivalent new customer price†
†The price you'd be given as a new customer if it was calculated using the same information available for your renewal quote (assuming the same cover details and sales channel).
You can manage your esure policy by logging into My Account below.
0
Off

Why choose esure Comprehensive Car Insurance?
Off
5-Year repair guaranteed - if your car is being repaired by one of our recommended repairers
Courtesy car - following an accident if one of our recommended repairers is fixing your vehicle
Windscreen cover - our specialists will happily perform a windscreen repair or replacement if yours gets damaged
Online claims - report your incident online, 24/7, at a time that's convenient for you 
Driving other cars - policy holder only, subject to eligibility
In car entertainment - cover for loss or damage to permanently fitted electronic equipment
Legal liability - unlimited cover for death or injury to other people
Motoring legal advice helpline - on hand - day and night - in case you need us
Off
Looking to get a quote from us for car insurance?
We're working on something new at the moment, which unfortunately means you can't currently get a quote directly from our website. You can still find esure on most of the major price comparison sites, so we hope to welcome you from there.
Off
Has your premium risen more than you expected?
There are several reasons why the cost of your car insurance may have changed at renewal, especially this year. Click here to take a look at our article on rising car insurance premiums.
Off
Fully comprehensive Electric Car Insurance
esure offer 5 Star rated1 comprehensive cover for your electric or hybrid vehicle 
By choosing our cover you have peace of mind knowing that your car will be protected by one of the UK's leading insurers.
Get an electric vehicle insurance quote in minutes
1 Excludes esure Flex
Off

What level of cover should you choose?
 
Well, that depends on what you'd like the car insurance to cover. We've included more information below so you can get a better idea of what type of car insurance might be best for you.
On
Third Party, Fire and Theft
This is the lowest level of car insurance offered by esure. It expands the cover offered by Third Party Only to include cover if your car's stolen or damaged by fire or theft.
Fully Comprehensive
This is the highest level of car insurance available from esure and covers everything Third Party, Fire and Theft offers, plus it covers you and your own car in the event of an accident. Among other things, it could also provide cover against accidental damage that you have caused to your own car.
On
Motor Legal Protection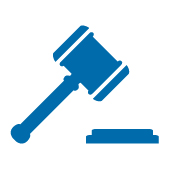 If you're involved in an accident that was partly or completely the fault of the other driver we can pay up to £100,000 (including VAT) towards legal costs to help you recover your expenses.
Breakdown Cover
On
Car Hire Benefit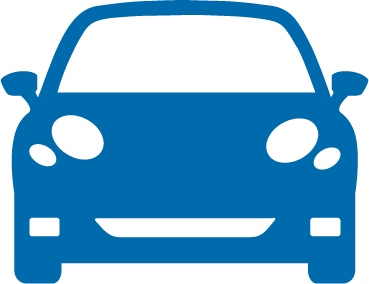 If your car is stolen and not recovered, or we agree it's a total loss, you'll get a similar-sized hire car. You can use this while your claim is being processed, for up to a maximum of 21 days.
Personal Injury Cover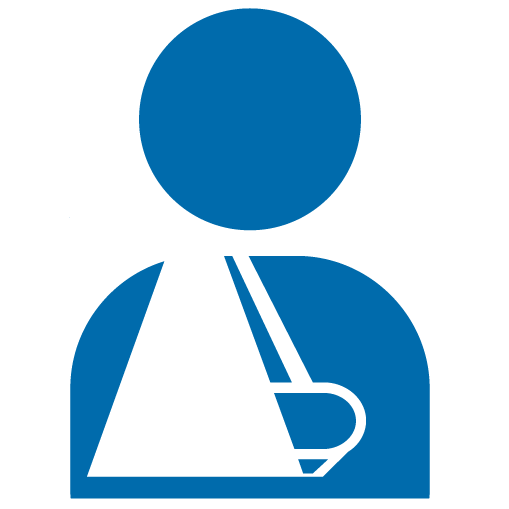 In the event of death or serious injury to you (or any named driver), we'll cover medical expenses and pay up to £100,000 if you're at fault, or up to £30,000 if not.
On
Key Cover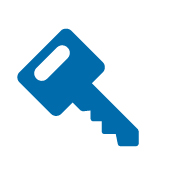 If your keys are lost, stolen or damaged, you can call our partner, the RAC, who'll help you retrieve, repair or replace them.
Misfuelling Cover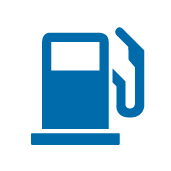 If you misfuel your car you can call out our partner, the RAC, who'll aim to get you back on the road in no time at all. (Remember, you won't need this cover if your vehicle is fully electric.)
Off

How do you get a quote? The 5 things we'll need to know

If you'd like a car insurance quote from us, there are some things you'll need to tell us to help us work out any risk associated with insuring you and prepare a quote. You can get a quote from us on most major price comparison sites. Here's what you'll need:
 
On
1. Your personal information
To get started we'll need your name, date of birth, contact information (so we can email your quote to you), occupation and a few other personal details.

 
2. Your driving history
You'll also have to answer a few questions about your claims history, whether you've any previous driving-related convictions, what type of licence you hold, and how many years No Claim Discount (NCD) you've got.
3. Details about your vehicle
This will include the make and model, who owns it and who's the main driver.
4. Information about how you use your vehicle.
As well as your vehicle's class of use (see below)*, we'll also need to know an annual mileage estimate and where you park your vehicle.
5. Details about additional drivers
If you'd like to add anyone to your policy as a named driver, simply give us their details and we'll take it from there.
Off
*Class of use categories are: Social, Domestic and Pleasure (SDP), Social, Domestic and Pleasure + your commute (SDP&C), SDP&C and business use by you, SDP&C and business use by you and your spouse or partner, SDP&C and business use by you and another driver.
So, if you just use your car to drive around town, visit friends or for the school run, choose Social, Domestic and Pleasure. However, if you also commute to work (even if your car's parked at a train station most of the day), then SDP&C would likely be the best option for you. And if you use your car for business, choose from one of the three options that fit best.
Off

Frequently asked questions

 
➤ Can I drive another car on my insurance?

Many car insurance policies do cover you to drive other cars but this is not included on all policies as standard. To find out if you are covered to drive other cars you can check section 3 of your Certificate of Motor Insurance.

The "drive other cars" extension allows the Car Insurance policyholder to drive someone else's car with the owner's permission. Cover on that car is limited to Third Party Damage only, and will not be Comprehensive even if that's the level of cover on your own car. Third Party Damage does not cover damage to or theft of the borrowed car. The entitlement is only available to the policyholder and not the named drivers on your policy.
➤ What's a No Claim Discount (NCD)?

Your No Claim Discount (NCD) is related to the number of years you've gone without making a claim on your car insurance. Building up your NCD over a number of years can help you get a discount on your Car Insurance premium as it shows you're a less risky driver to insure.
➤ What's an excess?

This is the amount of money you'd have to pay, over and above your Premium if you make a claim for loss or damage to your car or other specific situation.

There are two main types of excess – Compulsory, which is set by your insurer and not possible to change, and Voluntary, an additional amount that you may be able to increase with your insurer which should generally, reduce the cost of your premium. There may also be other excesses applicable so check your Schedule to see excesses that apply.

Increasing your Voluntary excess will mean you'll contribute more towards a claim if you need to make one, so you should make sure you can afford the total amount of all excesses combined should the worst happen and you need to pay it.
➤ Can I insure two cars in my name?

Yes you can. You'll need to take out a separate policy for each car. You can get a quote from most major price comparison sites.
➤ How much is car insurance?

This depends on a number of things, such as, the level of cover you choose, the car you drive and how long you've been driving. These are considered along with other things when assessing the risk and calculating the cost of your car insurance. Saying that, you could reduce this cost by: opting for a higher excess (as long as you're happy and can afford to pay that excess in the event of a claim): driving cars in low-numbered insurance group; and building up a No Claim Discount (NCD) over a number of years by driving safely.
➤ What does car insurance cover?

This depends on the level of cover you choose. For example, Third Party Only simply covers the costs of damage to another person (third party) and their property in an accident, while Fully Comprehensive covers you and your vehicle in addition to the other party and their vehicle. See the section below for more information about different levels of cover.
➤ Do I need car insurance?

Yes, if you want to drive on UK roads, the law requires you to have car insurance. 
➤ Do you insure electric cars?

Yes. We'll quote for the majority of electric cars available within our market however this is subject to our normal underwriting criteria. Some common electric vehicles we can quote for are: The Nissan Leaf, The Renault ZOE, BMW i3, Kia Soul and the VW e-Golf.
➤ Do I need to tell esure if I'm using my vehicle to aid the humanitarian crisis in Ukraine?

You do not need to inform us and your cover will not be impacted in accordance with the ABI Volunteer Driving Commitments. For full details, you can find out more on our designated Welcoming Refugees help page.
Off
Have you got a question? Click here to check our FAQs page 
On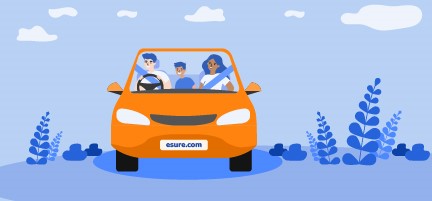 In the UK it is a legal requirement to have car insurance on your vehicle if it is on a public road, whether being driven or not. It is extremely important to know when your policy is due to expire as this could have a serious impact on you if you are using your car.
The benefits of driving a hybrid car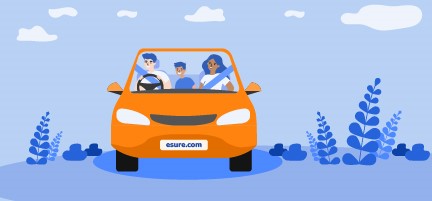 Hybrid cars are becoming an even more popular choice on UK roads. But do you know the difference between a parallel hybrid and a plug-in hybrid? We've collected together some highlights on what they are, how they run and how to charge them, to help get you started if you're thinking of buying a new hybrid.
Off
Customer Support Hub – for our latest guidance and support, including information on our Covid-19 initiatives, please visit our

dedicated Hub