Off
Lancaster Car Insurance
How much could you save? Buy today and you'll get:
Access to our 24/7 accident helpline
5 Star Defaqto rated cover 
0
Lancaster Car Insurance
Located in the North-West of England, Lancaster is the city that gives the county of Lancashire its name. It's the northernmost city in the county, and is known for its rich history and culture, largely thanks to its port and canals. Lancaster port was once one of the busiest in the country, making the city an important centre for commerce. It's also home to the University of Lancaster along with a campus of the University of Cumbria. It's also an area rich in natural beauty, as anyone who has taken a stroll through the forest of Bowland will tell you.
If you're moving up to Lancaster to begin studying or are just re-locating, it's important you let your insurer know where you'll be living. Where you live and will be keeping your car can affect the price you pay for your insurance. This is down to many factors, such as how populated the area is, crime rate, and risk of flooding.
Likewise, if you've got a new car for the big move, updating your details is also straightforward and can be done over the phone too. Getting a new car can affect your policy in many ways. A larger engine will no doubt increase what you pay for your car insurance, because it will make your car more powerful. That said if your new car has a smaller engine there is a good chance you'd pay less. But it's not just about engine size, things like the technical specifications, such as built in satnav, alloy wheels etc. can also increase what you pay–the reason for this is that if these features become damaged they'll cost more to replace.
0
I live in Lancaster, car insurance is new to me, is it expensive?
When you're buying car insurance, Lancaster car insurance requires the same kind of cover as any other city. What might change is the price of your insurance. Your cover will always be calculated according to several factors like the size of your engine, your lifestyle and where you live. Your policy costs can also be affected by your age, and you might get cheaper coverage if you are over 60, for example.
The best way to find out your potential costs for Lancaster car insurance is by getting a quote. It's also worth noting that if you don't make any claims you can save money by using your No Claim Discount.
0
What levels of car insurance are available?
If this is the first time you're buying car insurance, you may find the different types of cover confusing. There are three different levels of cover available, and the best option will depend on your needs and budget. Read on to find out about the different levels of car insurance that exist in the market.
Comprehensive insurance
This is the most common and highest level of cover you can buy–if you're involved in a collision, it is designed to cover both your car and the other driver's car including their property damaged by your car. It also covers you for accidental damage like scraping your paintwork when reversing into your garage. This level of cover is also useful for repairing malicious damage where it's hard to know who actually did it, for example someone keying your car.
Third party fire and theft
This kind of policy will cover any damage that you do to another driver's car or property. In addition, it will cover your costs if your car is damaged by fire or is stolen. However, it doesn't cover your car beyond that, so if your car is damaged in any other way, you're responsible for the repair costs.
Third party only
Third party only is the most basic kind of cover available. It only covers third parties, which means that your policy would only pay out for damage you do to other drivers' cars, their property, or injuries they get in the accident. Your own car is not covered by this type of policy, so if it is damaged or stolen, you'd have to cover the costs yourself. esure doesn't offer third party only insurance.
What does esure comprehensive insurance include?
Off
5-Year repair guaranteed - if your car's being repaired by one of our recommended repairers

Courtesy car - following an accident if one of our recommended repairers is fixing your vehicle

Windscreen cover - our specialists will happily perform a windscreen repair or replacement if yours gets damaged

Online claims - report your incident online, 24/7, at a time that's convenient for you 
Unlimited cover - if any third party dies or is injured by your car, including passengers.
Up to £20 million - to cover any damage you do to another person's property with your car

Driving other cars - policy holder only, subject to eligibility

In car entertainment - cover for loss or damage to permanently fitted electronic equipment

Legal liability - unlimited cover for death or injury to other people

Motoring legal advice helpline - on hand - day and night - in case you need us
Limits may apply, please check out policy booklet.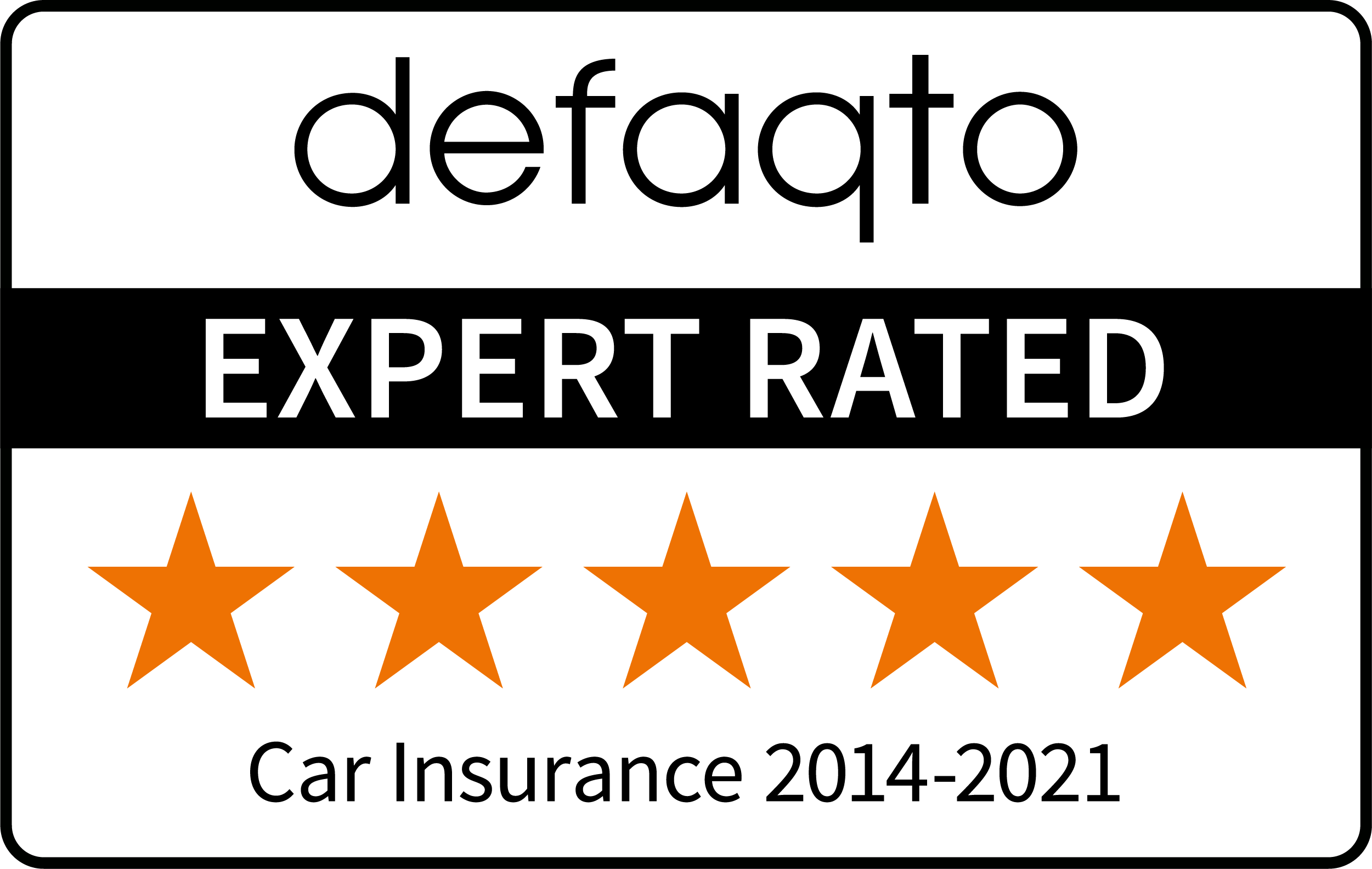 ​​​​​​
Defaqto rated 5 Stars - 5* car & home insurance
 
0
Off
What else can esure do for me?
Vandalism protection - if someone has maliciously damaged your car, just give us your crime number, which you can get from the police, and your No Claim Discount won't be affected.
Uninsured driver protection - if an uninsured driver causes damage to your car, your No Claim Discount won't be affected if you get the driver's name, address and the car's registration number.
European car cover - if you want to take your car to Europe, we can provide you with the same level of cover you have here in the UK–just let us know in good time before you set off, so we can arrange it all for you. Please bear in mind if you'd like to do this a foreign use extension charge will apply. For more information please visit our European car cover page.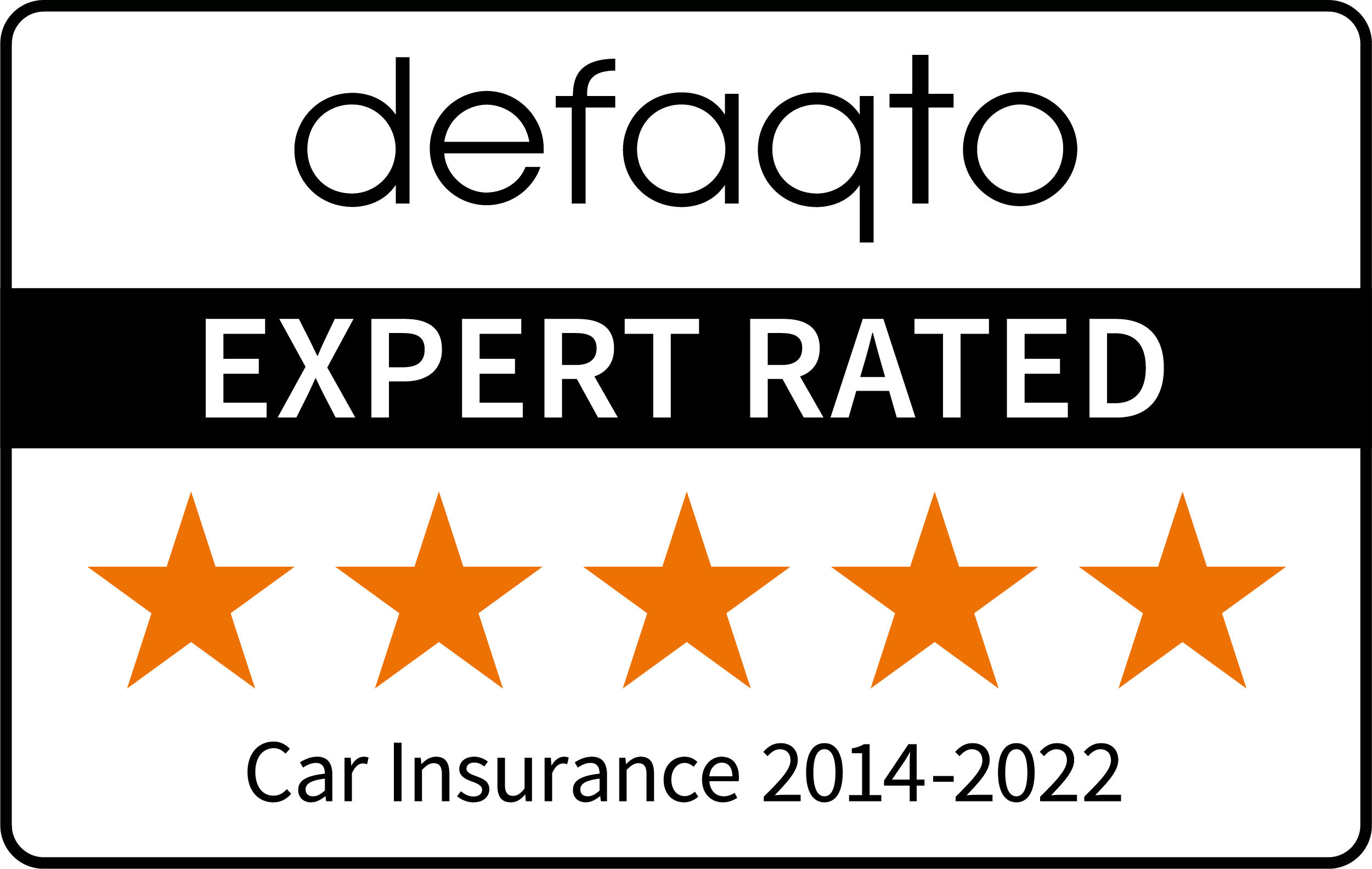 Off
If you're involved in an accident that was partly or completely the fault of the other driver we can pay up to £100,000 (including VAT) towards legal costs to help you recover your expenses. These can include lost wages if you've had to take time off work after the accident, or travel expenses while you were without your car. Motor Legal Protection could also cover your defence if you're facing prosecution for a motoring offence.
Off
Our wide range of Breakdown Cover options are offered with our partner the RAC.
Off


More than one car at home?
When you, or anyone permanently living in the same household as you, insures additional cars with us direct we'll discount each new policy by 10%*
* (1) Discount is not given when you get a quote for the same vehicle via a Price Comparison website within 31 days of getting your quote direct with esure. (2) Discount excludes Optional Extras. (3) Subject to eligibility.
Separate policies – so no change to your existing renewal dates. Your No Claims Discount (NCD) for each policy will also be kept separate, so a claim on one policy won't affect the NCD of the other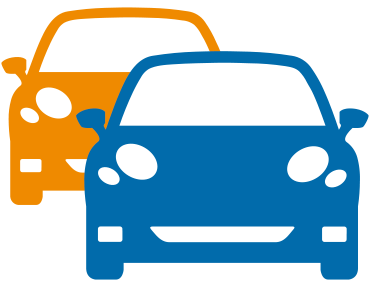 Off
What do our customers say about us?